News & Events
Networking: Outreach and Drop In Centre - South West District of Delhi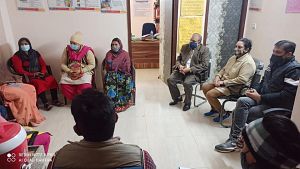 Networking: This is one of the important components of any social Development and so is ODIC. Today, Muskan Foundation has Networking Meeting with some of Asha Workers of Samta Enclave Dispensary of DHS, GNCT, Delhi at ODIC-South West project office.
It was sharing & understanding of functioning of both agencies. It will be planned as monthly activity.
Related News & Events
Leave message for us
Have a question or need support Contact Us ?
Contact Person : Dr. Bharat Bhushan
Mobile No. : +919810212113, +91 9717233971
Address : Muskan Foundation A-136 Amberhai, Sector-19, Dwarka, New Delhi-110075
Email-ID : info@muskanfoundation.org
Website : muskanfoundation.org